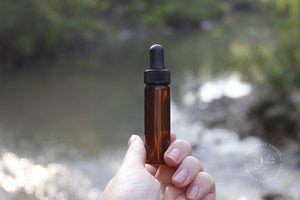 Fragrance Fusion Synergistic Products
BASIL essential oil
Sale price Price $10.00 Regular price Unit price / per
Species : Ocimum basilicum
Origin : India
Basil is best known in the kitchen. It has a green, herb filling aroma and is great for centering the mind and spirit. It also has benefits for holistic health, aiding in easing cramping, digestive health, and headaches.
Therapeutic properties : antibacterial, anti-infectious, antiseptic, antispasmodic, calminative, digestive, restorative, stomachic, tonic  
Therapeutic uses : muscular spasm and contraction, rheumatism, digestive problems, nausea, flatulence, menstrual cramp, dysmenorrhea, headache, migraines, tension, stress, physical and mental exhaustion
Precautionary advice: May cause irritation on highly sensitive skin; a skin patch test is advisable. Avoid use in baths and showers. Always dilute before use. *Avoid during pregnancy and while breast-feeding.