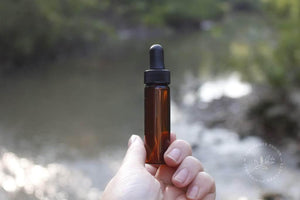 Fragrance Fusion Synergistic Products
CHAMOMILE ROMAN essential oil
Sale price Price $75.00 Regular price Unit price / per
Species : Anthemis Nobilis
Origin : Romania
The name "chamomile" has Greek origin and translates to "earth apple". This is a wonderful description for this herb's low growing habit and aromatic qualities. A classic sedative herb throughout herbal medicine dating back as far as 2,000 years, we often combine Roman Chamomile with similar acting oils/herbs to help promote calming and natural sleep. The essential oil of Roman Chamomile is used frequently in our handmade skincare and mindful blends to help promote peace and an overall positive mood! A truly luxurious, mystical and healing plant, Roman Chamomile essential oil packs a lot of power in just one drop. 
Therapeutic properties : Anti-inflammatory, analgesic, sedative, antispasmodic, anti-infectious, antibacterial, calmative, nervine
Therapeutic uses : Inflammatory conditions, menstrual cramps, eczema, skin infection, skin radiance, sunburn, burns, muscular spasms, abdominal cramps, headache, acne, pimples, muscular contraction, anxiety, tension, stress, panic, depression, high blood pressure, insomnia, indigestion, nausea, eczema, hives
Precautionary advice : No contraindications known.