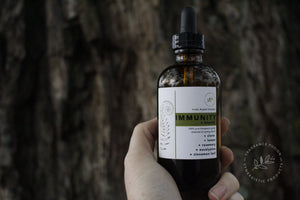 Fragrance Fusion Synergistic Products
IMMUNITY + BEYOND essential oil blend
Sale price Price $25.00 Regular price Unit price / per
Immunity + Beyond is a synergy of 5 power packed essential oils that are antiviral, antibacterial, and an all natural antiseptic. 
When combined these oils create a warm and spicy aroma that help kill germs and viral bacteria while boosting your immune system!
Key oils used : Clove bud oil, lemon peel oil, cinnamon bark oil, eucalyptus leaf oil, and rosemary leaf oil.
It can also be used as an effective, natural home cleaner or diffused into the air, 6 drops to every 8 oz. of water. 
Compare to the traditional "Thieves" essential oil blend.