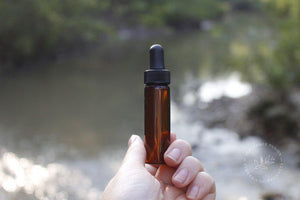 Fragrance Fusion Synergistic Products
ROSE ABSOLUTE essential oil
Sale price Price $115.00 Regular price Unit price / per
Species : Rosae damascena
Origin : Bulgaria
Rose essential oil is a definite staple in aromatherapy! A beautiful and effective herbal ingredient in skincare, perfumery and spiritual practices. 
Our species of rose essential oil is one of three "timeless original" perfume rose breeds. Petals from this damask rose species are used to extract essential oil in countries like Bulgaria, Turkey and Morocco. For quality, pure, no synthetics added rose essential oil, you will find it is considered a higher price point oil. It takes nearly 10,000 lbs of rose petals to distill one pound of oil! 
We do stock this oil and also offer a budget friendly alternative at a 3% dilution in organic, unrefined sunflower oil. 
Rose absolute essential oil is suitable for all skin types, and also for children. We use the steam distilled essential oil as a key ingredient in many of our handmade skincare recipes, lotions and custom all natural perfumes! 


Therapeutic properties : anti-inflammatory, astringent, 
Therapeutic uses : emotional stress, anxiety, acne, pimples, boils, hair loss.