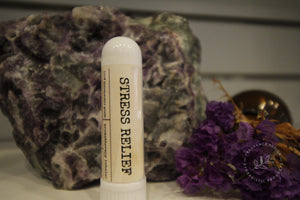 Fragrance Fusion Synergistic Products
STRESS RELIEF aromatherapy inhaler
Sale price Price $2.50 Regular price Unit price / per
This aromatherapy inhaler is here to give you a more holistic approach to stress. It's made up of 5 therapeutic grade essential oils designed to bring you back to center and re-align your self. 
Fragrance Fusion's aromatherapy inhalers are small and simple solutions for everyday problems.
The stress relief inhaler is hand blended with : bergamot + patchouli + orange 
+ ylang ylang + grapefruit essential oils.
Just twist off the cap, insert into nostril and take big deep breaths in through the nose, exhale out of the mouth. Use as often as needed.